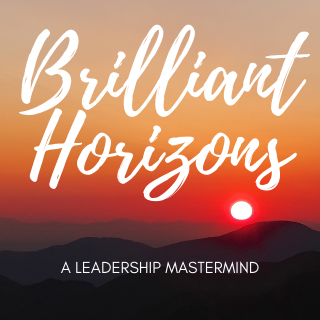 The road of life is full of twists, turns, ups, downs, and unforeseen detours. The horizon ahead is spectacular in it's possibilities...You can't see every step but you must take that first step in faith to unlock the future you know you are called too. The Brilliant Horizon is expansive and breathtaking. We take a moment to pause and reflect on the future ahead of us. We see it's filled with infinite possibilities, and it does require us to take the first step of faith to move forward. The journey calls to an irresistible drawing of desire deep in your soul, beckoning you ever forward. We are filled with hope and possibility. You must deeply engage your faith to propel you forward into inspired action. Come engage with Jennifer Dusza and Karen Smith as they lead, encourage, and inspire you through life's pivotal choices. We will focus on leadership, mindset, business, entrepreneurship, faith, abundance, and building your dreams. Jennifer and Karen's personal stories will make you think, laugh, be inspired, deepen your faith, and help you fulfill your own God given callings. The world needs your gifts and talents; they lie ahead on your Brilliant Horizon! Engage your own head, heart, and hustle and join us every Tuesday on this journey!! We will add bonus episodes from time to time so be on the lookout for those as well. The best way to catch all of our episodes is to click on that subscribe button so you don't miss one episode. We are excited to have you join us on Tuesday to launch Brilliant Horizons: a Leadership Mastermind Podcast.
Episodes
Tuesday Jun 01, 2021
Tuesday Jun 01, 2021
How many times have you wished that you could just slow down? Or wish you could calm your brain down and stop multi-tasking all the time? How much of your life are you actually missing by not being "present" in the moment you are in?  Thankfully we can learn to be more present in all areas of our life and experience all the powerful benefits this brings into our relationships and businesses. Join Jennifer Dusza and Karen Smith for this week's impactful conversation and learn to develop a greater appreciation and skills for the practice of being "present".